Announcing a big opportunity for someone to purchase their own slice of Royal Derwent/Willow Court.
On offer is 3 new individual titles for sale via More Real Estate in Hobart.
Buy 1 or all 3 the choice is yours.
These 3 new listings compliment the Social Centre at 34 Lower Road, New Norfolk that has been for sale for sometime for offers over $4 Million.
If you have the money you could own quite a bit of real estate over there now.
Please see below for more detailed information.


https://www.moretasmania.com.au/property?property_id=518115


Ward 12- 36 Lower Road, New Norfolk
Redevelopment Opportunity - 'The Admissions Building' Lower Road, New Norfolk
https://www.moretasmania.com.au/property?property_id=543709


Description-
The 'Admissions Building' started life back in the days of the Royal Derwent Hospital. It is an expansive building with very solid structure which is ready to be repurposed into a new use. While it needs a facelift in terms of paint, windows and renovation, the bones are very strong and sound.
Built with government funds back in the day, no expense was spared, and as has been demonstrated in the adjacent building, the Derwent Valley Resort, it can be easily renovated within the structure into a stunning eco-friendly new development.
As a solid concrete building, it has stood the test of time, and just need a little love to transform from the ugly duckling into Cinderella ready for the ball. The access, stairs, walls and main structure are very sound and could be repurposed into many different evolutions including accommodation, business offices and much more (STCA).
On two titles with sealed road frontage onto Lower Road, access is easy and practical. The site offers plenty of parking space also for whatever evolves on the site.
History:Admissions Ward, Doctors offices, Central Pharmacy, were where all the CT's, EEGs and x-rays were done.
It was one of the later wards to be built and the last ward built on that side being completed in 1970. In addition to housing ward 12 which was the admission ward, it also accommodated some of RDH clerical and nursing administration, the reception area, medical record and, in a later addition, the hospital pharmacy. The ward area could accommodates 16 residents, 12 single rooms in a dormitory wing and 4 in single rooms originally planned for staff use.
Contact Craig for more details on 0488 013 965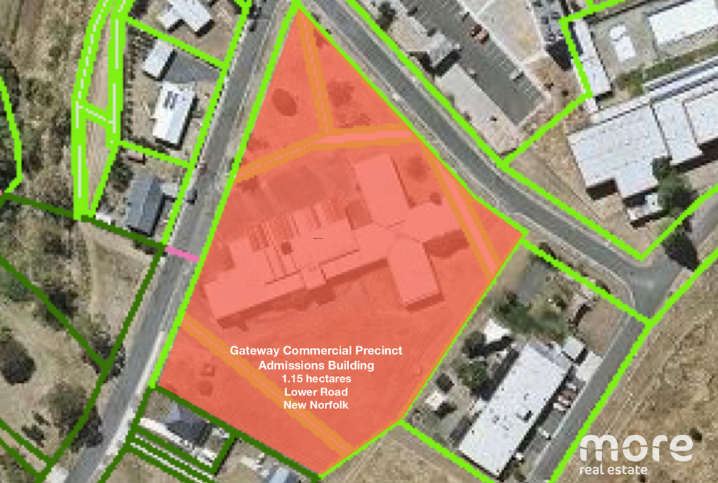 New Norfolk - Multi Use - Residential and Business Precinct
Description-
It is with great pleasure that More Real Estate presents this Multifaceted Business and Residential precinct for sale.
This expansive property, started life in as the site for many of the buildings in the Royal Derwent Hospital in New Norfolk, 32 km north west of Hobart and only 24km to the world renowned MONA museum at Claremont.
Over the past few years this site has been cleared, making way for this new transformation in 2020. Comprising an expansive 13.48 hectares, this site is at the entrance to New Norfolk and has a show stopping location with a huge frontage onto Hobart Road, the major tourist route to Strahan and the West coast
and the major arterial road to Hobart.
The site has 3 road access from Hobart Road on one side, access to Link Road on another side and Glebe Road, which is directly opposite the booming Gateway estate housing development. The Ring Road access provides a large sealed road frontage into the space, away from the main traffic of the Lyell Highway and allows access to the central left of
the site.
The Glebe Road access is very wide and offers flat sealed road access to one complete side of the parcel of land. The advantage of this, from a commercial
perspective, is the vast new housing development currently growing across the road, bringing with it a steady stream of potential customers to any retail precinct.
New homes are being built daily and is continuing to grow. With the easy commute to Hobart, this area is on an increasing trajectory upward for those who grasp this opportunity now.
Also available are plans for a proposed major shopping centre. Details supplied upon request.
For more details or to inspect- contact Craig Bellgrove on 0488 013965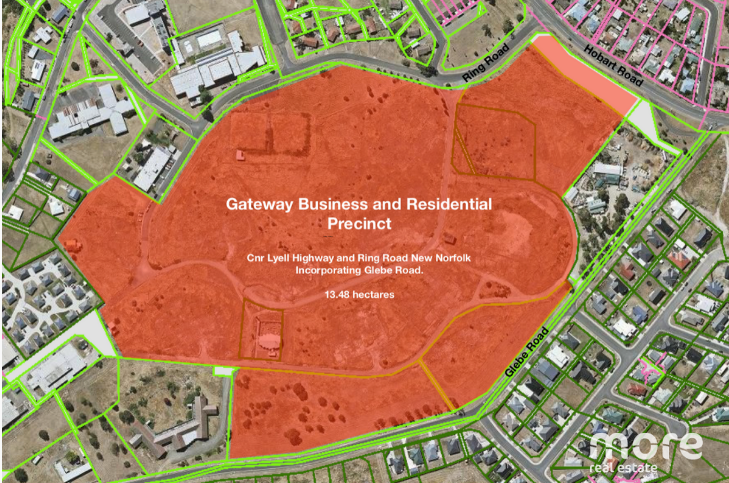 40 Glebe Road, New Norfolk Development site - Glebe Road New Norfolk
**Description-**Here is a site that would love some new energy and ideas to bring it into 2020.
In a previous life, this site housed the kitchen and laundry spaces for the old Royal Derwent Hospital facility. It is a spacious area with dual road access and is zoned light industrial to suit many applications.
The main access is from Glebe Road, directly opposite the Gateway Estate development where hundreds of new houses are being built. The secondary access is via Ring Road/ Middle Road - an area that is currently unused. This site is within only a kilometre from the town centre of New Norfolk.
Space is not an issue here with a massive 6315 square metres to play with so you can build to your hearts content (STCA).
Contact Craig on 0488 013 965 for further details.