Yesterday on Facebook a lady posted a Royal Derwent Hospital Swimming Pool Sign for sale and at the bargain price of $30.
The sign reads-
NOTICE TO USERS OF THE ROYAL DERWENT HOSPITAL POOL

CLEANING OF THE POOL
I am advised that users of the pool are swimming when the cleaner is in operation. This dangerous practice is to be discontinued immediately.

As the pool cleaner is electrically operated, users are advised to turn off the device before entering the pool and ensure it's turned on again after swimming.
Louis Booth
A/Administrator
16/12/97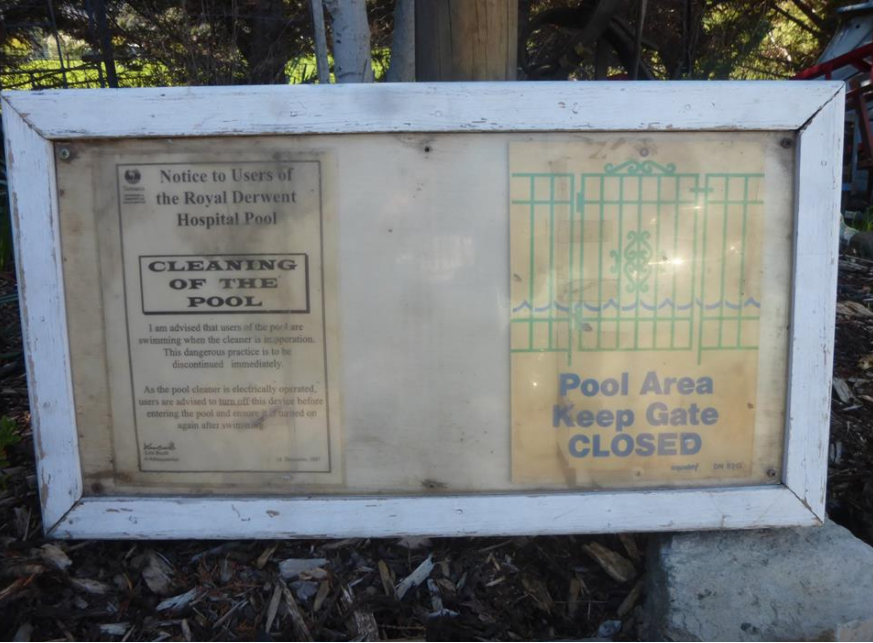 Wow how times have changed!
I remember swimming here during the winter when the New Norfolk Olympic Pool was closed.
We also swam there in the summer once when someone threw a beer bottle into the pool that somehow smashed. This meant the pool had to be drained, cleaned and re filled etc.
The RDH pool was so hot and the change rooms were like a Sauna. I remember we also had the key to the pool we paid a small fee which allowed us access whenever we wanted.




I also remember doing a charity event there once where we swam a full 24 hours non-stop taking turns, sort of like a relay for life type thing. It was a pretty cool event. I remember sleeping in the library/games room. I believe the celebrity guest who opened the event was former Test cricket umpire and convicted paedophile Steve Randell. Steve was sentenced in 1999 so I place this event between 1996 – 1999.

It really was a great facility. The Male change rooms had 2 showers (I think) several lockers and these semi private partitions to get dressed in, there was probably 10 of them or so. There was also an old ringer in there.