I often get asked this question, what can I see at Willow Court?



Apart from walking around the Willow Court Antiques Centre, Patchwork Cafe and the surrounding grounds there are a few more options for you to explore legally and safely.
I will add some photos, videos and maps to help you locate the wards and know what they are. If you want more information on each ward etc go to the history section of the website.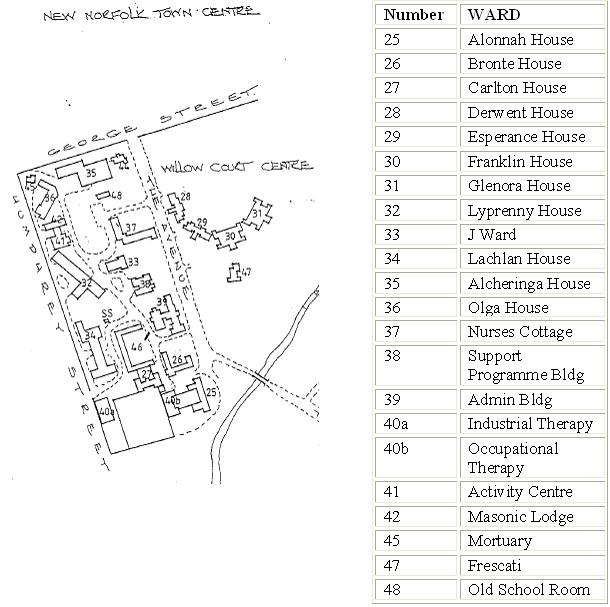 You are able walk past the Oval Precinct Wards, Ward D (Derwent) and Ward E (Esperance). Ward E & D were built in the mid to late 1930's. Unfortunately we recently lost Ward G to arson in 2018 and Ward F to arson a few years earlier.
These 2 wards are accessible but I do not recommend you enter.

This week Corumbene have announced they plan to redevelop these wards, so construction work may start soon.



Another beautiful area is Frescati. Frescati is next to the Oval Wards and is a little white building that was built in 1834. The Friends of Frescati have done a lot of excellent work rejuvenating the grounds around Frescati. Its a nice and quiet area to have a stroll and reflect. Unfortunately you can not enter the building, its only open during Open Days.



Just out the front of Frescati is the new Site of Reflection. Which is tribute to "Remembering all those who passed through here and those who cared for them."



About 50m away on the opposite side of the road is the Barracks Precinct. You might notice quite a few cars parked out the front. They are most likely having a something to eat at The Agrarian Kitchen Eatery. I highly recommend this place. The food is great and so is the renovated old Bronte Ward and surrounds.



You are able to walk through the Black Willow Court gates, past Agrarian Kitchen and walk straight up and have a look at the old sandstone looking building that is the Barracks. The Barracks was built in 1830 as a invalid barracks for sick convicts. You are unable to enter this building unless its during a Open Day.


* The below Video will demonstrate where you and go and what you can see in the Barracks Precinct.

Whilst in this area you can also walk towards the Red Brick double story building known as Ward C. You will also be able to see a small secure airing yard. If you keep walking you are normally able to walk through another set of smaller black gates.
Towards your left down near a large tree and grassed area you will find A Ward (Alonnah). Alonnah was built in 1966 and a high security Ward for Females. This ward is locked.
Towards your right you can walk under a old roller, past a door way on your left that leads into the occupational therapy building and into the large airing yard of Ward C. Ward C was built in 1908 as a high security ward for males. I suggest walking around the high concrete walls and seeing some of the old graffiti on the walls.
The New Norfolk Distillery are looking at redeveloping Wards A, C and Occupational Therapy. The Derwent Valley Council are deciding on a development application within the next week or so.
If your keen for more, you can also return to the very front of the barracks precinct near the big black Willow Court gates and go for a quick stroll.
If you turn right down towards the creek, you are able to walk along the old walls that takes you past A Ward and then C Ward. Its a nice easy 3 min walk and is really nice at Autumn.



This is subject to change especially with private bushiness looking to buy, utilise or redevelop the old wards. So if in doubt contact Derwent Valley Council (03) 6261 8500

I hope this helps. If anyone has any question please feel free to use the contact button.