A night to remember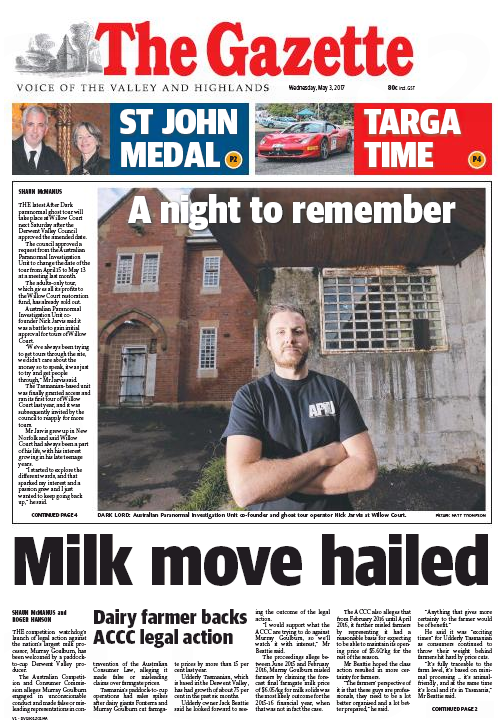 THE latest After Dark paranormal ghost tour will take place at Willow Court next Saturday after the Derwent Valley Council approved the amended date.
The council approved a request from the Australian Paranormal Investigation Unit to change the date of the tour from April 15 to May 13 at a meeting last month.
The adults-only tour, which gives all its profits to the Willow Court restoration fund, has already sold out.
Australian Paranormal Investigation Unit cofounder Nick Jarvis said it was a battle to gain initial approval for tours of Willow Court.
"We've always been trying to get tours through the site, we didn't care about the money so to speak, it was just to try and get people through," Mr Jarvis said.
The Tasmanian-based unit was finally granted access and ran its first tour of Willow Court last year, and it was subsequently invited by the council to reapply for more tours.
Mr Jarvis grew up in New Norfolk and said Willow Court had always been a part of his life, with his interest growing in his late teenage years.
"I started to explore the different wards, and that sparked my interest and a passion grew and I just wanted to keep going back up," he said. "The history, the buildings, and its links with the paranormal just make it a package."
That's not to say everyone shares his point of view.
"Some people hate the link to the paranormal, they get very vocal and very upset about it and call it disrespectful," Mr Jarvis said.
"But like it or not, it's had history with paranormal ever since it was pretty much first built in the 1830s."
"People are constantly saying they've seen things or heard things or they've been touched or experienced something weird."
Mr Jarvis said the investigation unit retained a healthy scepticism.
"We're not like hopeless believers — we're there to try to investigate, communicate, and document what's out there," he said.
While he can't guarantee a ghost sighting, Mr Jarvis said people who took part in the tour would still leave satisfied.
"They're going to learn a lot about the history, they're going to see the site at night time — just the ambience at night time is pretty spooky and something pretty special," he said.
There is another tour scheduled in October for people who missed out on tickets this time, and Mr Jarvis is hoping to lock more in.
"We're looking to a few more, which will have to go to council and be approved," he said.